I've been going on and on about this year's 24-Hour Television 36 Ai wa Chikyuu wo Sukuu all since yesterday! о(ж>▽<)y ☆



I think if I post more updates on Twitter or Instagram anymore I'd get reported as spam fml by friends with tendencies to be merciless lol thank God for blogs haha! Firstly let me just copy paste the official info on what 24-Hour TV is all about. Here goes:

"The telethon "24-Hour Television" started as a charity project in 1978 to commemorate the 25th anniversary of Nippon Television Network Corporation and its affiliates. Based on the theme "Love Saves the Earth," the aim of the charity program is to introduce existing conditions of social welfare in Japan as well as around the world, and to appeal the need for assistance towards disadvantaged people. The first campaign was successful as it gained public support largely through television viewers, and raised approximately 1.2 billion yen in donations. Consequently, the 24-Hour Television Charity Committee was established in the same year to administer funds donated by TV program viewers. The telethon has continued ever since, and has raised a total donation of 27,248,414,171 yen (as of September 2008). Although they conduct fundraising throughout the year, the highlight of the charitable activities, which is the telethon, takes place during one weekend in August every year."

Basically they travel around Japan to talk to people and personally assist those in need. This annual
telethon that literally runs for 24 hours (or more!)
is a huuuuuge event in Japan with an impressive record of ratings. Factoring the years since it started, peoeple of all generations are aware of it and well, you can't exactly escape them when you're out and about Japan either hahahaha look what Terri sent me just now and another a couple of days ago when she was exploring Tokyo!
This year, 24-Hour Television 36 Ai wa Chikyuu wo Sukuu just so happens to be on one of my working weekends fml I've been catching up on news from the
official Twitter @24hourTV
but that just makes me want to watch it live so much more. Especially so becaaaaause this year, Arashi has been chosen to be the main personality for the fourth year! This is the first time anyone/group has taken the huge responsibility for two consecutive years. No easy feat, imagine having to
stay awake for 24 hours to host a live television-marathon!
So proud of them boys!
One of the memorable moments of 24-Hour TV this year is the tee shirt designs featuring an epic collaboration between
legendary designer Yayoi Kusama and Arashi's leader Ohno Satoshi
! To be honest the concept takes a little getting used to but after watching the telethon, I must say I'm quite tempted to get one myself, the yellow one especially teehee.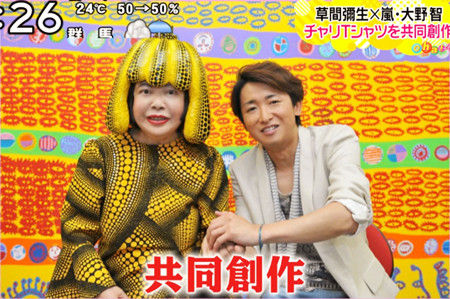 *gif (later) and tee pics taken from the internet
As main personalities, the Arashi members also went on a journey (individually) to different parts of the countries to interview the people and talk to them about this year's theme 24-Hour Television, which is
[ ニッポンって OO. この国の形]
[What is Japan? The Shape of the Country]
regardless of the positive or negative aspects. I've just started successfully streaming the channel last night and managed to catch Sakurai Sho's journey to a small town where people of all ages, from kids to teens to adults to senior citizens, reacted beautifully when they saw him coming.
"It's the real Sakurai Sho!" "You gave me a shock!" "Ehhh aren't you...?!" "Impossible!"
Gave me such a warm fuzzy feeling. Saw on Tumblr this Korean girl who practically screamed in shock when he rolled down the car window to talk to her, because she was motivated by Arashi to take up Japanese and live in Japan. Damn these people are lucky. That should be me lol
In addition to the impromptu interviews around Japan, every year the personalities work with individuals who need support in certain parts of their lives. For example a kid who lost her mom at the March 11th disaster and wants to win a karate competition in memory of her, cases like this. I couldn't catch any at all this year but I'm sure the World Wide Web will be helpful in this aspect soon enough hehe (─‿‿─) Bring on the waterworks lol people ALWAYS cry at this segment. Also caught a little of
Arashi ni Shiyagare live on air
, where the boys of Kanjani8 were guests and made such a ruckus in the studio when they challenged Arashi to little matches. Always such
chaos and fun when Arashi and Kanjani8 meet
on variety shows! Was laughing out loud in the middle of the night at their ridiculous antics and that epic moment when Arashi won the majority of challenges so all the Kanjani8 got on their knees to beg for forgiveness hahahahaha damn stoopid ah they all!
On a yearly basis as well, the telethon features a chosen personality's journey on a charity marathon. This year's star is Ooshima Miyuki from the female comedian trio Morisanchuu! Have always enjoyed watching her on variety shows so I was totally supporting her in spirit hahaha for a person who weights 88 kilos (this number was highly publicized, I'm not that much of a stalker lol) when the news was announced, it was mad impressive that she managed to reach the goal and there were literally tears in her and the audience's eyes on her last few kilometres! Look at the pride and joy in her eyes when she finally got to the stadium!
Too bad Matsujun just gave her a handshake instead of a great big hug considering how crazy she is about him hahahaha all in all, what an emotional telethon! There were the hilariously amusing moments, there were the heartfelt tearful moments, there were those inspirational life-changing moments and there were times where you literally feel their pain/frustration. Great television, I'd have stayed awake for all the hours if I could spare the time. Can't wait to catch the entire 24-Hours TV telethon. Amazing amazing amazing, Japan you rock!
I speak for all when I say 嵐さん,お疲れ様でした! (●⌒∇⌒●)